Camp enquiries to: info@haberfieldtennis.com.au

Our tennis camps run throughout the school holidays year-round. The camps are for kids interested in learning the basics of tennis as well as kids that want to improve in a fun-filled environment.
The recommended ages for camp are 4 years and up. Camps run from 9am to 3pm daily. You can come on a daily basis or for the full week. Every player that attends the last day of camp gets a prize.
The morning classes consist of stroke-production, acting as an introduction to the basics. After recess the classes consist of improving on the skills learnt and implementing them with tennis games as well as doubles and singles round robins. At the end of the day players participate in some free-time followed by a choice of one of the many organised activities including choices of tennis, soccer or capture the flag etc.
During recess and lunch players are able to have a break from the sun in our large clubhouse. In case of wet weather, indoor activities are organised during camp hours.
*Active kids vouchers can't be used for tennis camp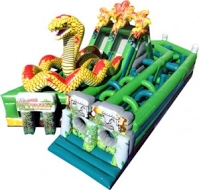 BRAND NEW! LOST JUNGLE KING COBRA MEGA CASTLE
AT TENNIS CAMP EVERYDAY!
What to bring:
Hat
Recess & Lunch
Drink Bottle
Sunscreen
Tennis Racquet (also available for purchase and hire)